Water Well Storage Tank Level Controls
The Most Reliable Float Switch Alternative
Are you still using a float switch on your water well storage tanks? Are you ready to switch to a water well tank float switch alternative that is 99% reliable over a 15-year life cycle and comes with a 5-year warranty? You can eliminate the use of float switches with CP2-110 for your well water holding tank.
Well Water Tanks
A well water holding tank is a large storage tank that holds water drawn from a well. Holding tanks can vary greatly in size, from small ones that hold about 2,500 gallons to large ones that hold 144,000 gallons. Water is drawn into the hold tanking via a motorized pump placed in the well.
Why Control Switches and Floats are Critical
Well water tanks can be found domestically in residential areas for drinking water and irrigation. Commercial potable water systems and industrial applications involving livestock or industrial processing also use well tankers. Regardless of its application, though, it is crucial to know how much water is in the holding tank to ensure that the well and pump are being used efficiently. A faulty level control switch or float in a well water holding tank could result in an overflow of water, an empty tank, or dry running equipment. That's why a reliable sensor that requires minimal maintenance is so important.
The water level sensor of your water holding tank is an essential component. Sensors will become damaged over time. If they are not repaired or replaced, they will fail entirely. When that happens, malfunctions occur. Too little water means inadequate water pressure and potential dry running of equipment — both of which leads to expensive repairs to holding tanks and associated equipment. And all of this can be caused by sub-par sensors. Too many times, the traditional well water holding tank sensors are sub-par.
An Alternative to the Traditional Well Water Float
The CP2-110, on the other hand, is an economical, reliable, accurate alternative to the traditional solution. It will replace well water storage tank float switches permanently. There will be no moving parts in the water to wear out, and the sensor probes we use will not plate, foul, or deteriorate, regardless of water quality. Our technology controls the pump's on and off functions, offers a low alarm, and indicates if the unit has lost power for any reason.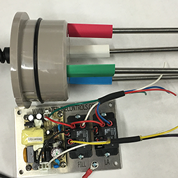 Sensor Head Design
The sensor head has five foot long stainless-steel probes to accurately detect when the water is at various levels. It has a low water alarm to turn off the booster pump if water gets too low, and a fill on/off switch points to turn the well pump on and off at different water levels. We designed the sensor head to go into the top of the tank or mount along side the tank in an external static pipe. Our sensor rods will not foul, plate or deteriorate no matter the water quality and the system comes with a 100% Satisfaction Guarantee.
Power Supply
The power supply can go into a new or existing electrical panel that has the well pump relay (110VAC coil) and the booster pump relay (110VAC Coil). This power supply can use either 110vac or 220vac (both available for the same price — just let us know which one you need).
Easy Setup
All the connections between the power supply and the sensor are color matched to make the installation easy and fast. Your system comes with a color-coded wiring diagram: the sensor head colors are matched to the same colored wires power supply. The relays need 110vac coils so they can be wired into the Waterline Controls Power supply (PS2) that is provided with this set-up. Also, the liquid level sensors we use are low-voltage and low-ampere, greatly reducing the chance of injury due to electrical shock during installation or maintenance. Waterline Controls easily integrates with SCADA using dry contacts. Unlike many of our competitors, our well water holding tank sensors are designed for use in water, resulting in little or no need for calibration during the install. At Waterline Controls, we are confident you'll find our products safe and easy to install yourself. If you do have questions, we're available at 888-905-1892 to walk you through the installation process.
Additional Uses
Our level sensors and controls aren't just for use in potable water holding tanks. Some models are suited to applications such as cooling towers, boilers and building fire protection water tanks. We can accommodate businesses and properties with dozens or even hundreds of apartments or condominiums. We know that if there's a water tank, there's a need for a level sensor.
Quality
At Waterline Controls, we know that quality is crucial when it comes to level sensors. All of our products, whether level controllers or liquid level sensors, are made in our US-based facility. There we monitor every step of the manufacturing process. Quality isn't an afterthought with Waterline Controls. It remains in focus throughout the design and manufacturing process. We are confident in the 5-year limited warranty we offer and guarantee all product satisfaction. In fact, many of our first models developed in the 1980s are still in use today.
The Right Model to Meet Your Need

We have several full system models that can meet your requirements. If you don't see a model that works for you, we can create a custom control.
Make The Change Today
If you are ready to replace your water well tank float switch with a reliable, economical, minimal maintenance alternative, you can buy one here today or
give us a call
if you have any questions.
Well Water Level Control
Average rating:
1 reviews
Feb 6, 2014
Service
The product is great, but what impressed me the most was the service you provided.
Water Well Storage Tank Level Controls