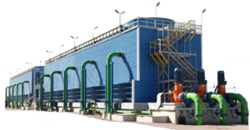 Cooling Tower Water Level Controls
(Products listed for this category are below)
We are Proud these Manufacturers Use Waterline Controls as original equipment in New Cooling Tower Installations:



*Disclaimer: The trade names in this page are owned by their respective companies or are the same name as the company. They are mentioned for comparison purposes only. They are in no way affiliated with System Dynamics, Inc or WaterLine Controls.
Solid State Controls with Electronic Sensors
We have designed and created an advanced state of the art Cooling Tower Sensor and Control System for water level control. Our Stainless Steel Sensors accurately measure water level regardless of water quality, without failing or corroding.
We offer a direct replacement cooling tower water level controls that have a 15 year expected duty life with very little to no maintenance required.
Our Cooling Tower Sensor uses stainless steel probes with up to six functions to maintain the water level, alert the facility manager of high or low levels, cut off a basin heater, and read the water temperature. All of these functions are controlled by software, which can be directly connected to the Building Management System using dry contacts. Ensure your evaporative cooling application lives a long and hard working life by choosing Waterline Controls.
Evaporative Cooling and Waterline Controls
Commercial markets use evaporative coolers for water in the form of cooling towers. In both water and air cooling applications, evaporative cooling relies on constant water flow. It is common for a small mechanical float to be installed on the basin to control the fluctuation of the water level, but these floats are regularly unreliable and unable to inform the building management system of how much water there is in the basin.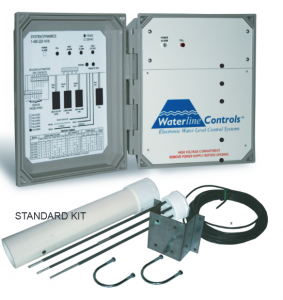 WLC Series water level controllers
They may look like the competition but the unit is revolutionary in its design. The WLC Series is perfect in any application where water level management is important such as cooling tower basins and water holding tanks for cooling towers. It uses a microprocessor that monitors all probes for correct operation and then provides the corresponding outputs to drive the power relays, the Building Automation System and a visual indication of the operational status. The Modular construction and a self-test feature insure user-friendly operation. By using a very low voltage and current, WLC Series sensors never foul, plate or degrade. So when we say "Never Replace A Water Level Controller Again" we mean it! These Kits are considered a complete kit for water level management. They include the sensor, the mounting assembly for the sensor and the WaterLine Control panel. The only other item needed is a fill valve which connects directly to these units.
You'll never need to replace a float switch again.
We offer a 100% Satisfaction Guarantee along with our 5 Year Limited Warranty so you can be sure you are getting the best product for the best value you can expect. Water level management is one of the most critical aspects of a properly operating cooling tower system. With dry-contact integration outputs in every Waterline Controls model, this critical function can be easily tracked and controlled using your existing building automation system. Waterline Controls' over 20 years of experience takes the guesswork out of water level management.
Direct Replacement Units for BAC, Evapco & Marley
Any Waterline Controls' electronic controls unit can be used to replace worn out BAC*, Evapco* and Marley* cooling tower units. But, if you need a direct replacement, you can order them from us and SAVE MONEY. With our system, you will never have to replace a water level controller again!
Our direct replacement models include all the features and functions of the other brand name units including Vanstone flange-style assemblies and custom sensor lengths from one inch to ten feet.
PLUS our direct replacement models ALSO INCLUDE the following exclusive features & benefits available ONLY in Waterline Controls' electronic level controllers.
Additional Information
Enclosure: 8-3/4" X 10-1/2" X 6" including the hinge and the latch. For indoor and outdoor use.
Sensor assembly: 3" diameter and 20" long.
Electrical: Controls operate at 0.5AMPS at 110VAC Internal Relay Contacts rated 30AMPS at 250Volts Dry Contacts for BAS are rated 0.5AMPS at 60Volts.
The Sensor is Intrinsically Safe.
COOLING TOWER WATER LEVELS & CONTROLS

PRODUCT FUNCTION TRUTH TABLE
The Blank spaces below mean "No Connection or Function"
*All controls have built-in self testing systems.
MODEL
BMS DRY CONTACTS
POWER RELAY
FAULT
POWER LOSS
HEATER CUT OFF
LOW ALARM
HIGH ALARM
FILL
BAS WIRES
HEATHER CUT OFF
LOW ALARM
HIGH ALARM
FILL
SELF TEST
HEATER CONTROL
WLC3000
X
X
X
4
X
X
Simplex Fill
WLC4000
X
X
X
X
6
X
X
X
Simplex Fill w/ High Level Alarm
WLC4500
X
X
X
X
6
X
X
X
 Simplex Fill w/ Low Level Alarm
WLC5000
X
X
X
X
X
8
X
X
X
X
Simplex Fill w/ High & Low Level Alarms
WLC6000
X
X
X
X
X
X
10
X
X
X
X
X
Simplex Fill w/ High & Low Level Alarms, Low Level Cut-off
WLC6000T
X
X
X
X
X
X
10
X
X
X
X
X
X
Simplex Fill with Temperature control for Basin Heater
Average rating:
5 reviews
Mar 9, 2016
You are always my first choice for electronic make-up systems!!
Jan 12, 2016
Went well. Customer seems happy with the installation on his cooling towers. Thanks Again.
Nov 9, 2015
The installation went very well. The controllers have been working without any issues and communicating with the BMS.
Oct 13, 2012
Saving us Water
Just wanted to let you know the two Waterline controls we have purchased are working flawlessly. Saving us water and providing much improvement over any system that has been in place in the past
Jan 15, 2011
Top Notch
I hold your company in the highest regard as far as customer service goes. You folks are top notch. Thanks again!