Waterline Controls™ Used on Evapco Cooling Towers
In many cases where conductivity level probes and controls have failed Waterline Controls™ is the preferred  solution.  We have many Waterline Controls™ Level Control System on Evapco Cooling Towers worldwide.   Waterline Controls™ uses a sensing technology that does not transmit power between the level sensor probes eliminating any potential for fouling, deterioration or pitting no matter how poor the water condition is in the environment.  More and more Facility Managers, Engineers and OEM Manufacturers have turned to Waterline Controls™ for their solution. Our 5 Year Limited Replacement Guarantee is unmatched in the industry.
Call Waterline Controls™ and Never replace a level controller again!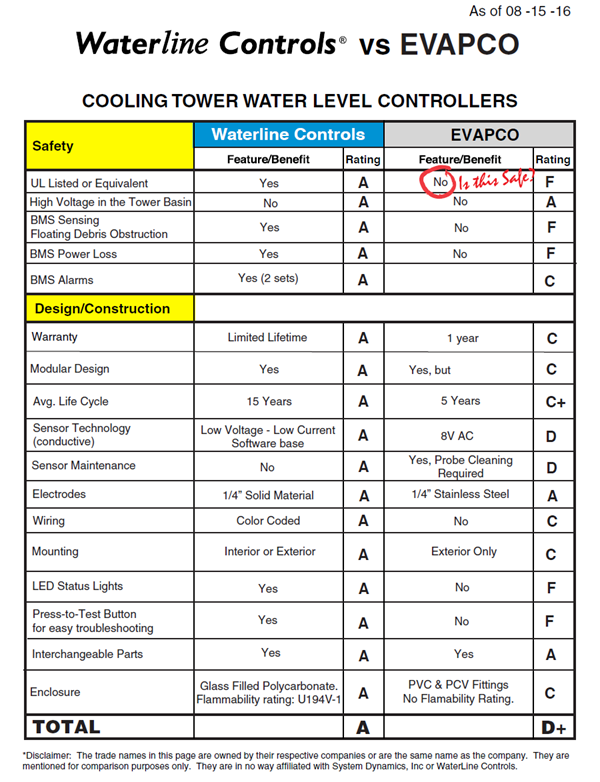 Disclaimer: The trade names in this page are owned by their respective companies or are the same name as the company. They are mentioned for comparison purposes only. They are in no way affiliated with System Dynamics, Inc or WaterLine Controls™.
PROUDLY MADE IN THE U.S.A.

 
All of our liquid level controls and liquid level sensors are assembled right here in the U.S.A.
where we monitor every step of the process.
NOT SURE WHAT YOU NEED? JUST CALL BECAUSE WE'RE HERE TO HELP! 1-888-905-1892