Cooling Technology Institute's Annual Conference in New Orleans
At this CTI Annual Conference show I was there alone, but got to spend time with one of my Customers Tony Balliagues, a Canadian, that I ran into there. On this trip I realized how much I love the combined art and music you find in Orleans. And of course, the food is really good too; there is just no other place quite like it in the US.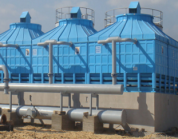 26 technical papers were presented, along with sessions put on by the Water Treating Group (WT), the Performance and Technology Group (P&T) and the Engineering Standards and Maintenance Group (ES&M) of CTI. There was also a Water Treating Panel Discussion on Instrumentation and Control in Cooling Water Systems. Hey, that's us!
The conference was billed to "consist of the industry's top vendors".
We enjoyed meeting several OEMs and are excited about working with them in the future. We got a great reception and will be working furiously to get back to all of those that requested more information or quotes. We hope to welcome many of you to our family soon. Thanks!
–Bill S.