AHR Expo in Chicago
The American Society of Heating and Air-Conditioning Engineers (ASHAE) "AHR Expo" in Chicago this year turned out to be a record breaker for attendance. Over 62,000 visitors from over 140 were in attendance for the 2015 Annual Meeting, according to ASHAE. A consolidation between ASHRAE and the Indoor Air Quality Association was also finalized by both organizations at the conference.
We had a great time – a special thanks goes out to all of the great people we talked with. Many were genuinely interested in how our water level controllers could upgrade and modernize their systems, and we had many conversations with both contactors and OEMs, several of whom we are already talking with further.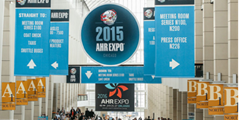 It was a pretty cold visit to Chicago this year, but we had a good time there. We did get a bit tired walking around the conference and one day even braved the cold on foot back to the hotel, but a cab was the proper way to travel in that weather. At nights we were on a quest to find the best Italian food and even had several different kinds of pizza at three different restaurants. Our favorite food on this visit turned out to be at a place called Tuscany.
Next we are off to the Cooling Technology Institute's Annual Conference in New Orleans, where we hope to see many old and, hopefully, some new, friends.
–Bill S.