Revolutionary Technology
Waterline Controls isn't just another product it is a revolutionary technology designed for all of your water level control needs.
Our technology is driven by software and each probe is a sensor in and of itself.
As water touches each probe the software can drive power relays to maintain the water level, activate alarms, or determine the water temperature.
Simplicity and Reliability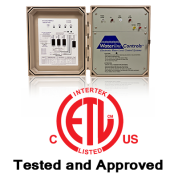 Though each model is a little different, there are LED indicator lights for each function. When the LED is on, the device it operates is on.
We included a press-to-test switch to make trouble shooting as simple as possible.
Anyone can simply press the button and watch it cycle through each of the circuits. there is no need to take any thing apart, use special tools, or have special skills.
Designed to Last
An aspect of our technology that makes it superior is its modular design, meaning that any part can be independently removed and replaced if needed. Though all of our models are pre-engineered packages for each individual application, they can also be modified to fit in many applications by simply changing the software in the controls.