All-Electronic, Solid State Water Level Controls For Any Application
CALL TODAY | 480-905-1892
Minimum 15-Year Duty Cycle with 99% uptime ensures long-term reliability 24/7
Our FPT Models meet all NFPA 22 & 72 regulations
Can be used in new installs and as direct replacements
Who We Are
Waterline Controls, based in Scottsdale, Arizona, manufactures and sells all-electronic, solid-state liquid level control kits for ALL water-based liquid applications in and around your facility.
Our unique Frequency-based, microprocessor-driven water level monitoring control kits perform regardless of the water quality and are guaranteed shock proof.
Select Your Application Above for More Information on the Best Models!
Here's Why You'll Want To Only Use Our Water Level Controls
If You're A Service Tech/Installer Or Building Maintenance Supervisor
Easy To Install – Saves time and labor costs. No frustrating call-back.
Easy To Connect – Designed to easily integrate with existing Building Management Systems (BMS/BAS).
Easy To Maintain – Minimal cleaning maintenance on the controls and stainless steel probes.
Superior Tech Support – You'll talk directly with highly trained, knowledgeable, USA tech support people who understand your needs & challenges in the field.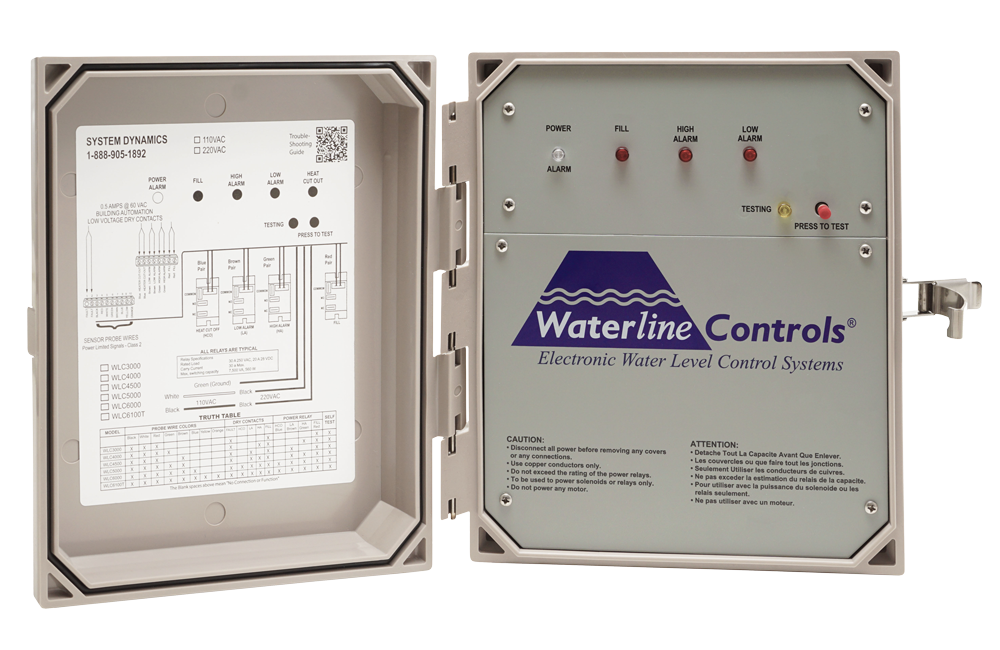 If You're An End User
Easy Monitoring – Our LED Indicator Lights make it easy to to quickly view the current status of all functions, and our "Press to Test" feature allows you to start a complete validation cycle of all systems with the push of just one button.
Set It And Forget It – Once each of the shock-proof stainless steel probes have been set to their desired depth and integrated with the BMS, the LED Indicator Lights and BMS connections intuitively show you what's happening 24/7. The built-in Power Failure and High/Low Alarms will alert you if any necessary action is required.
Reliable Accuracy – Our controllers are designed to compensate for wave action and will maintain water levels within 1/8" of operational range.
Multiple Options – We offer many different models to meet your exact needs and operational conditions. If you have a specific need or unusual situation, contact us here for a Custom Quote: custombuilds@waterlinecontrols.com
If You're A Specifying Engineer
Your Reputation Is Everything – You can confidently specify (with NO Approved Equal) our water level controllers for virtually any water level application. Know that your client will be completely satisfied with the end result, both immediately after installation and for many years to come.
PROUDLY MADE IN THE U.S.A.

 
All of our liquid level controls and liquid level sensors are assembled right here in the U.S.A.
where we monitor every step of the process.
NOT SURE WHAT YOU NEED? JUST CALL BECAUSE WE'RE HERE TO HELP! 480-905-1892
We offer products comparable to the products offered by the above companies. See our website pages for further information on the products. The tradenames and trademarks in this page are owned by their respective companies or are the same name as the company. They are mentioned for comparison purposes only. They are in no way affiliated with System Dynamics, Inc or WaterLine Controls.