WLC FPT 50-HS – Hanging Wire Sensor
Complete Kit Includes:
Sensor With 50 ft. Sensor Wire*
Junction Box
Submittal Package PDFs
This Hanging sensor can be used in the cases where there is not enough over head
clearance to allow for the solid sensor rods we typically would like to see. Each sensor is
set and secured with a conventional compression fitting to insure it stays at the correct level.
and is also color coded so it can be Identified all the way through to the Control panel.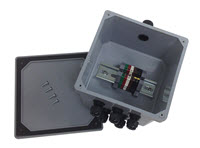 It comes as a kit and part of the kit is a color coded terminal block in a NEMA4 enclosure. This enclosure is typically mounted within a few feet of the sensor head assembly. We can also supply the necessary shielded wire between the J-box and the control panel. This is a great alternative whenever the space over the top of the environment is limited.
*Custom Sensors lengths available upon request.
If you are a Reseller, Sales Organization, Distributor, Contractor or an OEM we want to talk with you to determine an SPA price program for your organization so please call us at 1(888) 905-1892 or contact us now.
PROUDLY MADE IN THE U.S.A.

 
All of our liquid level controls and liquid level sensors are assembled right here in the U.S.A.
where we monitor every step of the process.
NOT SURE WHAT YOU NEED? JUST CALL BECAUSE WE'RE HERE TO HELP! 480-905-1892
We offer products comparable to the products offered by the above companies. See our website pages for further information on the products. The tradenames and trademarks in this page are owned by their respective companies or are the same name as the company. They are mentioned for comparison purposes only. They are in no way affiliated with System Dynamics, Inc or WaterLine Controls.