Fire Protection Water Tank Level Controller System
Fire Protection Water Tank Level Controller System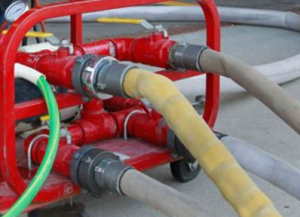 Your Fire Protection System is dependent on assuring your water reserve requirements are met at all times:
You really need look no further than the revolutionary
Electronic Sensors and

Solid State controllers

from Waterline Controls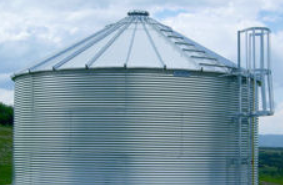 Typical regulations usually include languarge such as:
Regardless of use, all tanks shall be equipped with a device that will ensure that the tank contains the designated amount of water for fire flow duration as determination by the fire department"
Water Storage Tanks are an integral part of fire protection systems and the use of an above ground water storage tank that is correctly sized for the application could make the difference in an emergency situation and may be required by local fire code as a secondary on-site water supply for automatic fire sprinkler systems also known as a break tank.  A break tank is a water tank providing suction to a fire pump, but the tank's capacity or size is less than that required by the fire protection systems served.
Gel-
Filled
Heat
Shrink
50 ft. sensor wire
Sensor Low Voltage Raceway
UP TO 10 WIRE DRY
CONTACTS
TO AUTOMATION SYSTEM – 2 for each function plus
2 for fault conditions. (see truth table for BAS wire quantities)
AC Power Input
Internal Relays (N.O.)
are rated 30 amps
at 250VAC.
Low Level Alarm
POWER
ALARM
FILL
LOW
ALARM
HEAT
CUT OUT
TESTING
HIGH
ALARM
PRESS TO TEST
*
Contact
the factory for Custom Sensor requirements.
Buzzers
with
Silencer
Switch
TANK WALL
Reference – BLACK
3″ Pipe Clamp
used as adjustment sleeve
4″ Slip Fitting
(Slip x Male NPT)
Maximum Operating Level
Minimum Operating Level
Low Alarm
Custom Fitting
Sensor
Low Alarm – BROWN
Minimum Operating Level – WHITE
Maximum Operating Level – RED
5/8″ Equalizer
Vent Hole (2)
1. The 3″ PVC Pipe needs to be at least 2″ longer than the longest Sensor tip.
2. Adjustment occurs by moving the 3″ PVC Pipe up or down and tightening the
clamp so it rests on the Custom Fitting.
Operating range
4″ NTP
Reference
TANK WALL
3″ PVC Pipe cut to length
M.O.L
4″ Threader into the tank
High Alarm
High Alarm – GREEN
High Level Alarm
CITY
WATER
SUPPLY
Fill to
Reservoir or Tank
"Y" Strainer
110VAC activated valve
as specified
Service Level Control
Service Level Fill Control with Low and High Alarm
Low-Low Alarm
Low-Low Alarm – BLUE
Low-Low Level Alarm
or Temp (optional)
UNIVERSAL DIAGRAM FOR ALL MODELS
Internal alarm
with silencer switch
ALARM
MODELS
FPT 3