Cooling Towers found with Legionnaire's Disease in New York
Cooling Towers found with Legionnaire's Disease in New York
New York City has announced that 2 more people have died from Legionnaire's disease, bringing the casualty total to 10 so far, of the one hundred people infected in the South Bronx.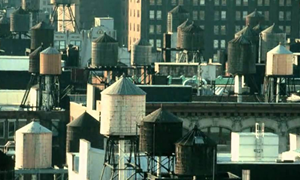 Five separate cooling towers have so far been identified as being infected, since the outbreak started last month.
Even though New York Mayor, Bill de Blasio has said he was confident they have identified all sources of the current outbreak, he has also ordered all cooling towers in New York be inspected within the next 2 weeks. The logistical nightmare of this should keep inspectors quite busy for awhile. Anyone who owns or manages a building utilizing a cooling tower is required to test and if needed disinfect it. Those who do not do so will be subject to misdemeanor charges for failing to promptly comply.
The Mayor, in an attempt to settle those with public safety concerns said "I want to emphasize at the outset that the vast majority of buildings in New York City do not have these cooling towers." He continued with details of the scope of the issue "They tend to be found in bigger, more modern buildings, but any building that does have one of these cooling towers will be subject to this order."
Keeping a cooling tower safe and free from bacteria or other contaminants is very important. Cleanup requires soaking the cooling tower with chlorine for 16 hours, draining it, and then scrubbing it clean.
According to Rich Parker, the president of a cleaning company dispatched to the Opera House Hotel, "The water circulates wholly within the tower and does not come into contact with air conditioning units."
"The air conditioning units is a whole separate water system." He expressed confidence that the system was safe and that the cleaning was because they required it, not because there was any bacteria found or suspected at the Hotel.
Four cooling towers in the South Bronx tested positive for the bacteria and were fully cleaned already. Although Mayor de Blasio says he is confident that the disease cannot be spread through drinking water, cleaning specialist know that the bacteria can breed wherever there is standing warm water that has the possibility of being inhaled as a mist. According to certified water technologist Steven Serrano, as reported by NY1's Erin Clarke "Legionella Pneumophila thrives in a temperature between 77 degrees all the way to 115."
The outbreak once again reminds us upkeep and maintenance of your cooling tower is of the utmost importance. The damp and warm environment that the bacteria needs to thrive is found in cooling towers, which must be cleaned regularly to prevent the bacteria from taking root.
Dr. Jay Varma, Deputy Commissioner for Disease Control for the New York City Health Department says the city delayed creating the new regulation sooner, partly due to the trouble in identifying the cause, which he said can be difficult in many cases. He did not known how often cooling towers were the source of the disease. "The challenge is we don't know where most infections normally come from," he said.
Officials say they are confident that they have identified and addressed this outbreak, but have not yet determine specifically if the infected towers were the cause of the infections or if it was one or several that actually infected people, though the disease was found in at least 5 towers so far. the cleaning rush will now most likely cover up the actual spear of the disease, as many people may just clean them as a precaution while waiting for available personnel to test them. Once officials notice an increase in diagnoses an outbreak may already be underway. Legionella Pneumophila has an incubation period of up to 10 days, making tracking potentially quite difficult.
Cleaning your tower regularly and maintaining it properly is not just cost effective, but potentially life saving.