WLC-8550 – WATER LEVEL CONTROL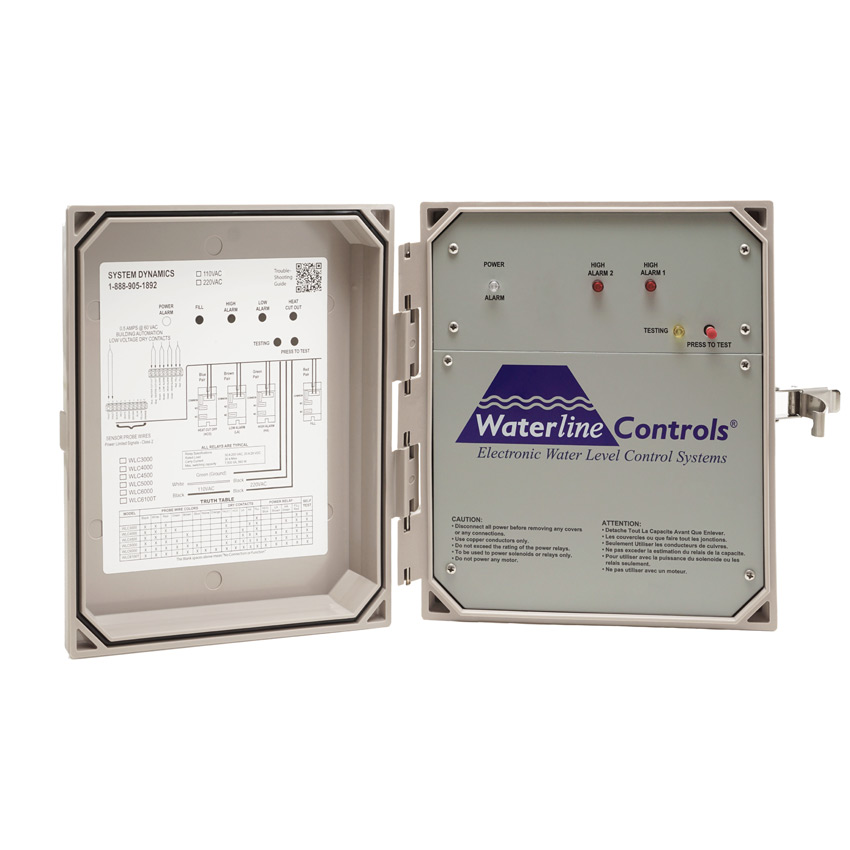 WLC-8550 – Dual Water Level Indicator
Complete Kit Includes
NEMA 4X Enclosure with Lockable SS Latch and Power Relays
Sensor with 50 ft. Cable*
Side Wall Mounting Assembly
*Custom Sensors lengths available upon request.
If you are a Reseller, Sales Organization, Distributor, Contractor or an OEM we want to talk with you to determine an SPA price program for your organization so please call us at 1(888) 905-1892 or contact us now.
DESCRIPTION
The WLC-8550 is a perfect standalone system offering two independent water alarms. Use the WLC-8550 to detect and alert the presence of water at two different points or as a redundant backup for mission-critical equipment.
SPECIFICATIONS
Model: WLC-8550
Functions: Dual Water Level Indicator
Input Power: 110VAC / 110VAC Standard (30VDC, 24VAC, 240VAC available)
PANEL SPECIFICATIONS
DPDT Power Relays: 2
DPDT Power Relay Rating: 120VAC @ 40A (N.O.) / 120VAC @ 30A (N.C.)
SPST Dry Contacts for Remote Signaling (BMS, BAS, or Other): 3
SPST Dry Contact Rating: 30VDC @ .5A
SPST Dry Contact Functions: (1) Power-loss, (2) Control Functions
LED Indicators: 3
Press to Test: Yes
Audible Alarm: Available upon request
Alarm Beacon: Available upon request
Temperature Alarm: Available upon request
ENCLOSURE SPECIFICATIONS
Rating: NEMA 4X (Indoor/Outdoor)
Material: Polycarbonate
Size: L: 10-1/2″ W: 9-1/2″ H: 5″
Panel Door: Hinged, Non-Transparent ( Clear available upon request)
Latch: Stainless Steel (Lockable latch available upon request)
Panel Faceplates: Aluminum
LEVEL PROBE SPECIFICATIONS
Plug Style: 3″ PVC Slip-Plug
Sensor Head Material: PVC
Sensor Head Size: 3″ diameter (round)
Probe Material: PVC Heat-Shrink, Stainless Steel
Probe Length:

Alarm 1 (Green) 10-3/8″
Alarm 2 (Red) 14″
Reference (Black) 17″

Probes Extendable? Yes, and up to any length (18″/45.5″ Extension Kits available)
ACCESSORIES
Jefferson Valve (3/4″-2″)
OCV Valve (2″-12″)
Superior Valve (3/4″- 2″)
Extension Rod Kits
Audible Alarm
Top of Panel Beacon
H.O.A. Switches
Remote Indication Panels
Light Towers
WARRANTY
5-Year Limited Warranty
Life of Product Technical Support
PROUDLY MADE IN THE U.S.A.

 
All of our liquid level controls and liquid level sensors are assembled right here in the U.S.A.
where we monitor every step of the process.
NOT SURE WHAT YOU NEED? JUST CALL BECAUSE WE'RE HERE TO HELP! 480-905-1892
We offer products comparable to the products offered by the above companies. See our website pages for further information on the products. The tradenames and trademarks in this page are owned by their respective companies or are the same name as the company. They are mentioned for comparison purposes only. They are in no way affiliated with System Dynamics, Inc or WaterLine Controls.