WHY WATER LEVEL SENSORS AND TANK CONTROL SWITCHES ARE CRUCIAL!
It is fairly common in residential areas to use well water tanks for irrigation as well as drinking water. Well tankers are also used in portable water systems for industrial and commercial applications such as industrial processes and the care of livestock. Whatever you are using it for, it is especially important to understand the total amount of water contained within the holding tank as it is paramount in ensuring the well and pump are being used to their maximum effectiveness. When there is a fault in the float contained in a well water holding tank or an error with the level control switch, you may face an empty tank, or the water overflowing or equipment that becomes dry running. When you consider this, it is obvious you need a sensor that needs little maintenance and is exceptionally reliable. Usually water tanks utilize a mechanical float switch. The role of this is to assist in the clearing of sewage as well as water application. But these switches usually fail within three years and are not reliable enough.
One component that is essential in your water holding tank is the water level sensor. If they are not maintained and replaced or repaired when a fault first occurs, they will become damaged, ultimately leading to total failure and various other problems will arise. Inadequate water pressure is a sign of there being too little available water causing equipment to dry run. Sensors that are not working reliably and accurately can cause these issues to occur.
Portable Water Float Switch Switch Replacement And Additional Info
Portable water float switches can be replaced by our controls and level sensors as well as having many different uses and applications. Certain models, for example, are ideal for water tanks offering fire protection as well as cooling towers and boilers. We can meet the needs of properties and businesses even if they have hundreds of residences. A level sensor is needed for every water tank!
Designs Of Sensor Heads
With steel probes of five-foot length, they can detect when the water is positioned at different levels. Its low water alarm can switch off the booster pump when the water is too low and a fill on/off switch points can activate the on/off on the well pump at varying levels of water. The sensor head is ideally designed to enter the tank at the top or alternatively be mounted next to the tank by the utilization of a pipe that is external and static. You can be sure our sensor rods will not plate, deteriorate or foul regardless of the quality of water and of course this is backed up by our one-hundred percent guarantee of satisfaction.
Power
If you have either a new or an existing panel that accommodates the well pump relay, (110VAC coil) as well as the booster pump relay (!!)VAC coil) you are good to go! Remember the power supply can use both 220VAC and 110VAC< so be sure to let us know which one will suit your requirements.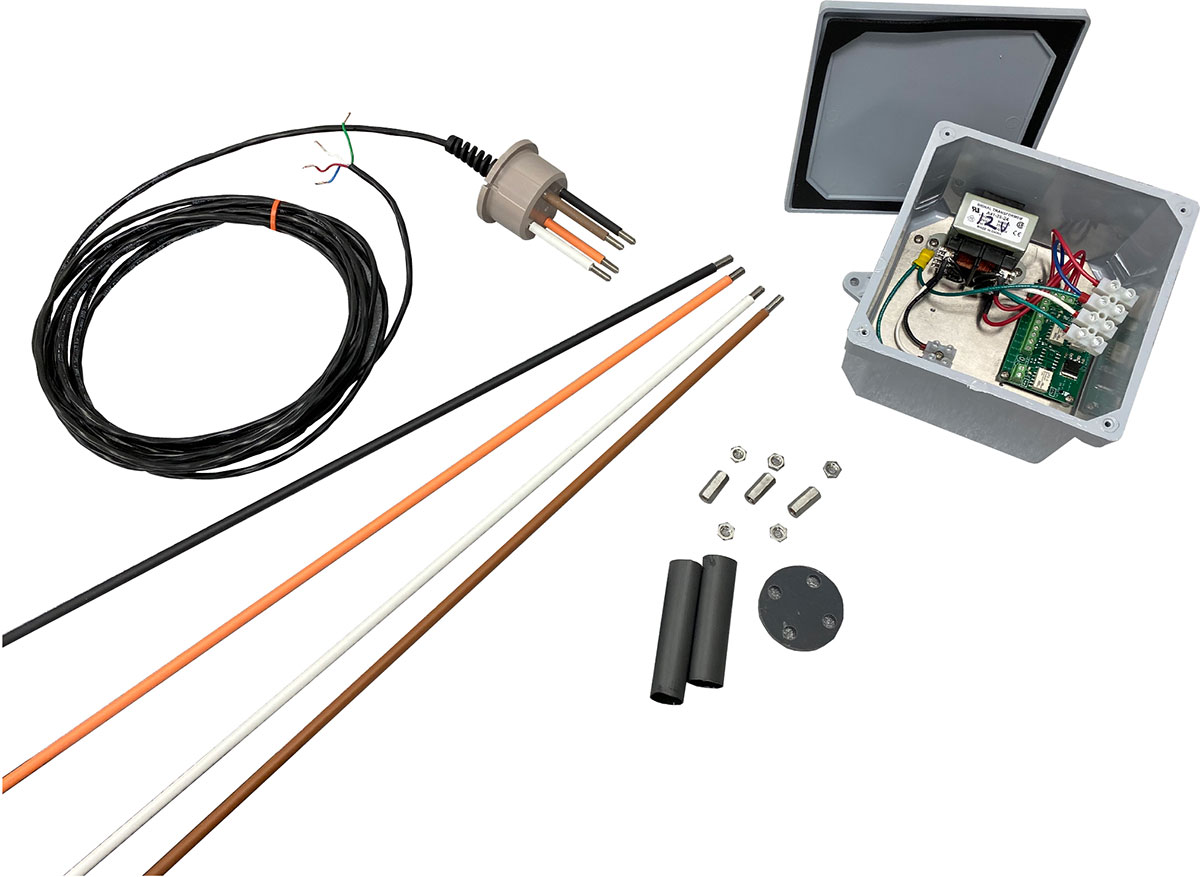 Set Up Is Simple
With color matching between the sensor and the power supply, installation is a cinch. We supply diagrams that are color coded and the wires as well as the sensor heads colors are all matched!
110VAC coils are required ensuring they can be utilized with the Waterline Controls Power Supply (PS2) that is included with this particular set-up. Being low-ampere as well as low-voltage, the liquid level sensors vastly reduce the potential of an injury occurring from electric shock while you complete the installation as well as regular maintenance, thereafter.
Waterline Controls Integrates with east with SCADA dry contacts. Unlike most of the competition, the fact our well water holding tank sensors are specifically designed for use in water, it virtually eliminates the need for calibration during the process of installation.
Speedy Installation
Waterline Controls products are simple, fast, and easy to install yourself. We are here if you have questions! Just call us at 888-902-1892 and we will take you through the installation processes. It takes roughly an equal amount of time as the installation of a water tank float switch.
PROUDLY MADE IN THE U.S.A.

 
All of our liquid level controls and liquid level sensors are assembled right here in the U.S.A.
where we monitor every step of the process.
NOT SURE WHAT YOU NEED? JUST CALL BECAUSE WE'RE HERE TO HELP! 480-905-1892
We offer products comparable to the products offered by the above companies. See our website pages for further information on the products. The tradenames and trademarks in this page are owned by their respective companies or are the same name as the company. They are mentioned for comparison purposes only. They are in no way affiliated with System Dynamics, Inc or WaterLine Controls.