Automatic Pool & Fountain Filler Valve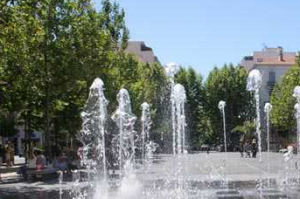 The idea behind these types of environments is recreational. And the equipment is intended to be hidden from the view of the users or onlooker so as to not take away from the experience. That experience is intended to be pleasing to the eye and happiness. With that thought in mind, we recommend an external stilling well either in a raised planter, parapet wall or ran back into the equipment room as long as it is on a similar elevation. This static well will provide a reflected level of the environment and remove the sensing probe from sight.
Waterline Controls™ is designed to operate 110VAC solenoid valves and connect into a larger control panel to let the pool or fountain operator know what the water level controls are doing. As a designer Waterline Controls™ offers all the features and functions out of the line of sight making the experience of watching a fountain or swimming in a pool the best it can be.
Features:
Commercial Swimming Pools & Fountains
Designed for both initial installation and replacement of any brand
Software customized for special situations
Control Information
Enclosure: 8-3/4" X 10-1/2" X 6" including the hinge and the latch. For indoor and outdoor use.
Sensor assembly: 3" diameter and 20" long.
Electrical: Controls operate at 0.5AMPS at 110VAC Internal Relay Contacts rated 30AMPS at 250Volts Dry Contacts for BMS are rated 0.5AMPS at 60Volts
The Sensor is Intrinsically Safe.
PROUDLY MADE IN THE U.S.A.

 
All of our liquid level controls and liquid level sensors are assembled right here in the U.S.A.
where we monitor every step of the process.
NOT SURE WHAT YOU NEED? JUST CALL BECAUSE WE'RE HERE TO HELP! 1-888-905-1892
We offer products comparable to the products offered by the above companies. See our website pages for further information on the products. The tradenames and trademarks in this page are owned by their respective companies or are the same name as the company. They are mentioned for comparison purposes only. They are in no way affiliated with System Dynamics, Inc or WaterLine Controls.