Commercial Pools and Fountains
Automatic Pool & Fountain Filler Valve
(Products listed for this category are below)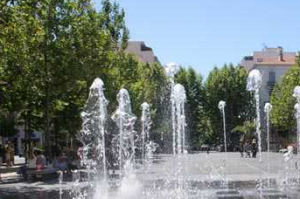 The idea behind these types of environments is recreational. And the equipment is intended to be hidden from the view of the users or onlooker so as to not take away from the experience. That experience is intended to be pleasing to the eye and happiness. With that thought in mind, we recommend an external stilling well either in a raised planter, parapet wall or ran back into the equipment room as long as it is on a similar elevation. This static well will provide a reflected level of the environment and remove the sensing probe from sight.
Waterline controls is designed to operate 110VAC solenoid valves and connect into a larger control panel to let the pool or fountain operator know what the water level controls are doing. As a designer Waterline Controls offers all the features and functions out of the line of sight making the experience of watching a fountain or swimming in a pool the best it can be.
Features:
Commercial Swimming Pools & Fountains
Designed for both initial installation and replacement of any brand
Software customized for special situations
Control Information
Enclosure: 8-3/4" X 10-1/2" X 6" including the hinge and the latch. For indoor and outdoor use.
Sensor assembly: 3" diameter and 20" long.
Electrical: Controls operate at 0.5AMPS at 110VAC Internal Relay Contacts rated 30AMPS at 250Volts Dry Contacts for BMS are rated 0.5AMPS at 60Volts
The Sensor is Intrinsically Safe.
Fountain Water Level Controller and Sensor
Average rating:
1 reviews
Mar 17, 2015
Wow! I was just on a job that had one of your controls on it for the past 10 years and it looks like it has never been in the water, it was so clean!
I talked to Dan on the phone and said "That is the difference between my product and conductivity probes" and the other end of the phone was dead silent. And then he said "WOW! I never realized that until just now!" - Bill S.