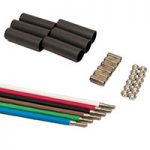 All of the sensor tips on all the models have a 1/4-20 thread on the tip so they can be easily extended with the EXT kits. The EXT Kits have the necessary hardware to add the 45.5″ Extension Rods as needed (these can be cut to length at the job site). You can add as many 45.5″ extensions to reach the depth in the environment. They also have a spacer to make sure the sensor tips remained spaced properly.
Custom Applications
We make different sensor heads for different applications. We recently made a CPVC Sensor head with 2ft sensor tips for a condenser. It needed the CPVC since the environment operated at about 200F. We have made sensors for other applications too, just call us and see if we can help.
PROUDLY MADE IN THE U.S.A.

 
All of our liquid level controls and liquid level sensors are assembled right here in the U.S.A.
where we monitor every step of the process.
NOT SURE WHAT YOU NEED? JUST CALL BECAUSE WE'RE HERE TO HELP! 1-888-905-1892