Water Fountains
Water Fountains need to be accurately controlled to assure proper and continued function. The level of water required to keep the fountain from either running dry or overflowing is very important to monitor and maintain. Low water can cause pump damage or fountain failures, while floods from overflowing can be even more disastrous. We could help cover all that…and much more.
Fountains are usually in a public place, where you want the equipment out of sight…and touch, not in the view of onlookers, taking away from the experience. Our sensors can be located in an external static well to remove the sensing probe from sight.
You also need a safe system. Our sensors run on low voltage and low current. In fact, all of our products are ETL Listed to the industrial Controls UL Standard 508. You can check out our Fountain Systems here.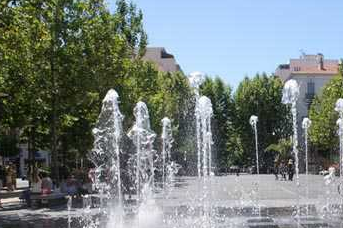 Sensors
What Kind of Sensor is the Best? Ask our customers! We recently spoke with a fountain Contractor/Supplier in Los Angeles and got a great testimonial we thought we'd share. He was telling us about a job he had been on recently…
Client Testimonial
While attending to a fountain he had the chance to observe a Waterline electronic sensor. He was surprised by its appearance, thinking it look new, when he knew it was not. He said it had had our controller and sensor for 20 years and "it looks like it has never been in the water, it was so clean." Ever seen the corrosion on conductivity probes or the pitting that occurs? Our sensors don't suffer from that. We use a sensor that contains multiple stainless steel probes that are inserted into the liquid being measured.
We proudly told the contactor that here was the difference between our product and conductivity type probes. We told him that a 10 year old probe like the one he encountered can look almost brand new still. He went silent of a minute, and then exclaimed happily, "Wow, I never realized that until just now!"
CONDUCTIVE SENSORS AFTER 1 YEAR USE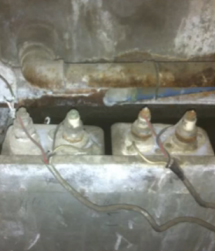 Corrosion on a conductive sensor, typical after 1 year
WATERLINE SENSORS AFTER 2 YEARS USE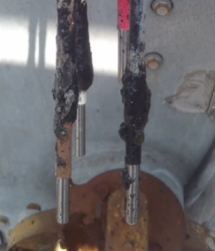 Even with bad water quality tips of the probe look new!
Controllers
You also need to control your water supply. Waterline controllers are designed to operate 110VAC solenoid valves and connect into a larger control panel to let the pool or fountain operator know what the water level controls are doing. Building Automation System – With BAS connection capability our revolutionary software driven solid state electronic controllers are the cutting edge for water level control. We have systems with High & Low Alarms and Low-Low Basin Heater Cut-off, for fool-proof operation. Testing is simple and intuitive, with just a push of a button.
The Sum is Greater Than the Parts
And some great parts they are. With little maintenance, low cost, long life and integrated firmware for hassle free operation, we think we have the only system you'll ever need for keeping a beautiful and expensive water fountain running economically, safely and automatically for many, many years to come. Back that up with our industry leading 100% satisfaction guarantee and you simply can't lose!
PROUDLY MADE IN THE U.S.A.

 
All of our liquid level controls and liquid level sensors are assembled right here in the U.S.A.
where we monitor every step of the process.
NOT SURE WHAT YOU NEED? JUST CALL BECAUSE WE'RE HERE TO HELP! 1-888-905-1892
We offer products comparable to the products offered by the above companies. See our website pages for further information on the products. The tradenames and trademarks in this page are owned by their respective companies or are the same name as the company. They are mentioned for comparison purposes only. They are in no way affiliated with System Dynamics, Inc or WaterLine Controls.