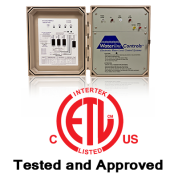 Accu-Trol Water Level Controls
We acquired an Accu-Trol unit and have evaluated it in our offices.  Tthe results are here:
Disclaimer: The trade names in this page are owned by their respective companies or are the same name as the company. They are mentioned for comparison purposes only. They are in no way affiliated with System Dynamics, Inc. or WaterLine Controls.