Residential Well Water Systems
Well Level Systems & Controllers
(Products listed for this category are below)
Water Level Sensors
The water level sensor of your water holding tank is an essential component. If not repaired or replaced, a sensor can become damaged over time and fail entirely. Too much water can cause a malfunction and too little water means inadequate water pressure. Either way, repairing or replacing holding tanks is an expensive task you shouldn't have to undertake because of sub-par sensors. With Waterline Controls' water holding tank level sensors, there's nothing to break down or rust and our models have a 99% success rate! In the high unlikely event that you experience any issues with your product, call us and we'll replace or repair it immediately at no charge.
Our technology controls the pump's on and off functions, offers a low alarm, and indicates if the unit has lost power for any reason. Waterline Controls easily integrates with SCADA using dry contacts.
Well Water Tanks
A well water holding tank is simply a large storage tank that holds water drawn from a well. A motorized pump is placed in the well and water is drawn into a holding tank where it can be used and stored. This holding tank can range greatly in size, with some being as small as 2,500 gallons to others as large as 144,000 gallons.
Well water tanks can be found domestically in residential areas for drinking water and irrigation, as well as commercial potable water systems and industrial uses such as nurturing livestock or industrial processing. Regardless of its application, knowing how much water the holding tank has is crucial to ensure that the well and pump are being used efficiently. A faulty level control switch or float in a well water holding tank could result in an overflow of water, or an empty tank and dry running mechanisms.
Additional Uses
Our level sensors and controls aren't just for use in residential potable water holding tanks; some models are suited cooling towers, boilers and building fire protection water tanks. We can accommodate businesses and properties with dozens or even hundreds of apartments or condominiums. If there's a water tank, there's a need for a level sensor, so quality is crucial. All of our products, whether level controllers or liquid level sensors, are made in our US-based facility, where we monitor every step of the manufacturing process. We are confident in the 5 year limited warranty we offer and guarantee all product satisfaction. In fact, many of our first models, developed in the 1980s, are still in use today.
Dependability

For you and your family, the safe and accurate control of the holding tank water level makes the difference between having drinking water for your home and not having it. Waterline Controls, with over 25 years of experience, makes the products you and your family can count on and provides a 5 Year Limited Warranty with all of its units. The liquid level sensors we use are low-voltage and low-ampere, and greatly reduce the chance of injury due to electrical shock during installation or maintenance. Unlike a great deal of our competitors, our well water holding tank sensors are designed for use in water, resulting in little or no need for calibration during the install. Save a service fee for a water level switch installation. At Waterline Controls, we are confident you'll find our products safe and easy to install yourself. If you do have questions, we're available at 888-905-1892 to walk you through the installation process.
Average rating:
1 reviews
Feb 6, 2014
Service
The product is great, but what impressed me the most was the service you provided.
Residential Well Water Systems
Category Products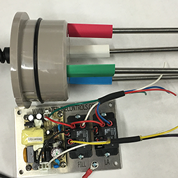 Features:
Floatless Water Level Control
Low Cost Solution for residential well water holding tanks