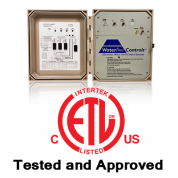 WLC4000 – Fill W/High Alarm
Complete Kit Includes:
Sensor With 50 ft. Sensor Wire*
Controller
Mounting Assembly
Features
Fill w/ High Alarm
2-Contact point system
6-wire Dry contacts to BAS for measuring Fill "ON" time
High Water Alarm and Fault conditions
Operates any 110VAC valve & 110VAC audible alarm (Not supplied in this kit – see options section).
Usage
We see this control used mostly as a high and low alarm and not as a fill switch, using the Fill switch as the low alarm and the High alarm as the high alarm. The application does not matter. The fill switch in this controller turns on at one probe and off at another.
To use it as an alarm instead of a fill device, inside the control panel the installer just puts the two sensors together so the switch turns on and off at the same set points for the low alarm. The high alarm works on one probe only so it would just be put in at the correct height for the high alarm.
Description
There are three outputs which:
Close a set of dry contacts for a BMS
Operate a relay rated at 30AMPS for 250VAC
Turn on an LED to indicate this sensor has tripped.
The Control Panel has visual displays indicating power to the level control panel, when the control panel is actively filling and the high water alarm. The Fill dry contacts can be used as a comparative to develop a baseline benchmark of water usage for the system.
*Custom Sensors lengths available upon request.
If you are a Reseller, Sales Organization, Distributor, Contractor or an OEM we want to talk with you to determine an SPA price program for your organization so please call us at 1(888) 905-1892 or contact us now.